Business Continuity Planning
Holistic solutions for data backup and disaster recovery throughout Cairns and North Queensland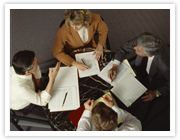 If a natural or manmade disaster were to strike your business today, would it be able to survive? You can't predict the future, but you can protect your business with the right disaster recovery plan in place.
TJ Microsystems provides unparallelled security against disasters with a complete plan for data backup, computer hard drive backup, and hardware and system recovery for business throughout Cairns and North Queensland.
With Business Continuity Planning and Disaster Recovery solutions from TJ Microsystems, you can:
​​​​​Get rid of any worries related to the catastrophic loss of your computer data - our team handles all of your backup requirements
​​​​​Stop depending on outdated ways to backup your data - rely on the continuity and security of an automatic data backup
​​​​​Eliminate potential liabilities and risk - safely protect all your valuable customer data
​​​​​Recover quickly - if disaster should strike, you'll be back to business in no time
​​​​​Defend it all - our total solution defends your entire system, including systems and email for a full and speedy recovery
With reliable Business Continuity Planning with full backup and recovery solutions for your business, you can say goodbye to the constant worry that comes with running a business.
TJ Microsystems understands that unpredictable disasters and unforeseen data loss is a constant worry for small businesses like yours. With service in Cairns, Northern Beaches, Port Douglas, Mareeba, Atherton Tablelands, Cape York, Thursday Island, Torres Strait, south to Edmonton, Gordonvale, Innisfail and beyond to Townsville, Mackay and Gladstone, we guarantee reliable solutions for data backup and computer hard drive backup to protect your company's bottom line.
Whether your business is in need of remote server backup, virtual data recovery, online data backup storage, computer hard drive backup, disaster recovery, business continuity planning service, or offsite data storage solutions, we've got the solution for you.
Predicting the future is impossible, but preparing for what could come your way is easier than ever. Let us show you how a reliable business continuity planning and disaster recovery solution can protect you from what's out there.
---
Areas Covered
We provide a range of Computer Support, Network Services and IT Consulting in Cairns, Westcourt, Bungalow, Portsmith, Edge Hill, Smithfield, Cairns Beaches, Edmonton, Gordonvale, Port Douglas, Mossman, Innisfail, Mareeba, Atherton, Tablelands and North Queensland.
Local experts who can visit on-site: Cairns Computer Support, Port Douglas Managed Services, Atherton Tablelands Backup and Data Recovery, Cairns IT Consulting, Port Douglas Virtualisation, Atherton Tablelands Email and Spam Protection and Gladstone IT Products.