Cybersecurity
Protect your business from hackers and malware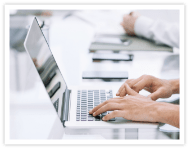 Think hackers will overlook your business because it's small? Think again. This complacency is what makes SMBs the perfect target for cybercriminals. By failing to take precautions and mitigate risks for your technology, you are leaving your business exposed to cyberthreats.
Fortunately, TJ Microsystemss is here to help. With our Cybersecurity solution, we proactively prevent potential threats before they can wreak havoc on your business. Our team of experts will effectively identify and address your system's vulnerabilities. We combine information security and malware protection to keep your data and networks safe on all fronts.
TJ Microsystems' Cybersecurity solution includes:
Thorough network assessments to pinpoint and remove potential risks
Powerful antivirus software that detects and deletes suspicious files before they enter your system
Advanced firewalls that block unauthorized access to your network
Content filtering tools that restrict employee access to suspicious websites
---
Areas Covered
We provide a range of Computer Support, Network Services and IT Consulting in Cairns, Westcourt, Bungalow, Portsmith, Edge Hill, Smithfield, Cairns Beaches, Edmonton, Gordonvale, Port Douglas, Mossman, Innisfail, Mareeba, Atherton, Tablelands and North Queensland.
Local experts who can visit on-site: Cairns Computer Support, Port Douglas Managed Services, Atherton Tablelands Backup and Data Recovery, Cairns IT Consulting, Port Douglas Virtualisation, Atherton Tablelands Email and Spam Protection and Gladstone IT Products.