Internet Services
Get peace of mind knowing your business runs on a high-performance network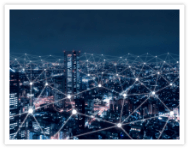 One of the most common network problems is performance bottlenecks. When a device starts lagging, it creates a domino effect on your business processes and your overall productivity. Fortunately, there is a way to ensure your networks remain optimal and you always have the internet bandwidth you need.
TJ Microsystems has partnered with GCOMM to provide you with a highly redundant IP network that utilises leading-edge Cisco routing and switching technology. We aggregate with Australia's major telecommunications carriers where we can cherry pick the most appropriate 'last mile' infrastructure for each of your sites depending on needs. Some of these carrier partners include Telstra, Optus, AAPT, TPG, Vocus,Superloop and Megaport.
TJ Microsystems's Internet Services let you choose from a wide variety of connectivity options such as:
Digital Subscriber Line (DSL)
National Broadband Network (NBN)
Ethernet over Copper
Fixed Wireless
Ethernet over Fibre
Dark Fibre
Dense Wavelength Division Multiplexing (DWDM)
For further information please download the Brochure below
---
Areas Covered
We provide a range of Computer Support, Network Services and IT Consulting in Cairns, Westcourt, Bungalow, Portsmith, Edge Hill, Smithfield, Cairns Beaches, Edmonton, Gordonvale, Port Douglas, Mossman, Innisfail, Mareeba, Atherton, Tablelands and North Queensland.
Local experts who can visit on-site: Cairns Computer Support, Port Douglas Managed Services, Atherton Tablelands Backup and Data Recovery, Cairns IT Consulting, Port Douglas Virtualisation, Atherton Tablelands Email and Spam Protection and Gladstone IT Products.