On Demand Services
IT Help and Computer PC Repair for true peace of mind throughout Cairns and North Queensland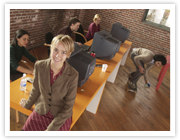 Do you spend far too much time with your technology when you should be running your business? With software help and computer repair that's there when you need it, you can finally end anxiety over what to do should your technology break.
TJ Microsystems offers computer PC repair and IT help that works in tandem with your business, allowing for synergy between your technology and your core business throughout Cairns and North Queensland.
With TJ Microsystems as your dependable partner in IT Support, you get:
​​​​​Your specialised IT department - around-the-clock service and support
​​​​​Customised support - never pay for services you don't need
​​​​​Decreased downtime - get back to business as soon as possible
​​​​​Market advantages - utilise the same empowering technology used by the larger companies
Technology Support On Demand Services allow you to harness the power of your business technology, knowing you're covered should something go wrong.
TJ Microsystems understands that you want to run your business, not worry about your technology breaking down. Serving Cairns, Northern Beaches, Port Douglas, Mareeba, Atherton Tablelands, Cape York, Thursday Island, Torres Strait, south to Edmonton, Gordonvale, Innisfail and beyond to Townsville, Mackay and Gladstone, our computer tech support and computer software help can streamline the way you do business and give you true peace of mind.
Whether your business requires PC help, PC repair, computer repair, help fixing computer problems, online computer support, software help, computer help, online & remote computer repair, IT help, computer tech support, or computer diagnostics, we're there when you need us.
Technology should help your business, not hinder it. If the burden of technology has overtaken your business, try the sensible solution with our dependable IT help.
---
Areas Covered
We provide a range of Computer Support, Network Services and IT Consulting in Cairns, Westcourt, Bungalow, Portsmith, Edge Hill, Smithfield, Cairns Beaches, Edmonton, Gordonvale, Port Douglas, Mossman, Innisfail, Mareeba, Atherton, Tablelands and North Queensland.
Local experts who can visit on-site: Cairns Computer Support, Port Douglas Managed Services, Atherton Tablelands Backup and Data Recovery, Cairns IT Consulting, Port Douglas Virtualisation, Atherton Tablelands Email and Spam Protection and Gladstone IT Products.